Nothing compares to having a treat arrive just when you need it. At Royal Curry, we're going to do just that for you! Our Best Indian restaurant in Mount Annan offers a variety of Indian multi-cuisine dishes that include specialties from both North and South India. Your taste buds will travel to India when you eat at the Indian restaurant Mount Annan. We take great pride in offering a wide range of delectable cuisine in a serene and sophisticated setting. We work hard to deliver the comfort and food that our customers demand. We only serve freshly prepared cuisine, and the Royal Curry will tempt you to sample all our tasty delicacies.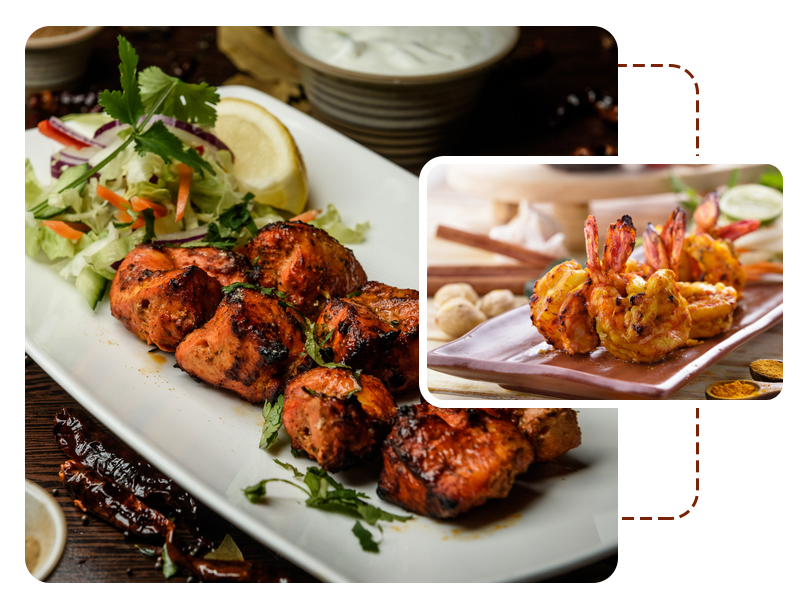 Indian Food in Mount Annan
In Mount Annan, you may find delectable vegan Indian cuisine. You must try Mount Annan's vegan-friendly Indian cuisine, which includes everything from authentic vegan street food to Southern Indian dishes, and more! The variety of fragrant spices and delicious ingredients in vegan Indian food elevates vegetables, curries, rice, and bread. You can find everything you need at these vegan-friendly restaurants to satisfy your craving for Indian food, from mouthwatering vegan dosas to a steaming bowl of vegan lentil daal.
For those who appreciate eating delectable plant-based Indian food, here is our most recent list of Mount Annan's must-try vegan-friendly dishes. To have some delicious food, assemble your loved ones or go alone.
Rogan Josh
Saag Punjabi
Samosa chaat
Vegetable spring roll
Channa masala
Kadhai paneer
Paneer tikka masala
Aloo palak
Vegetable korma
Chicken Biryani
Beef Biryani
Lamb Biryani
Madras beef
Madras chicken
Chicken curry
Goat curry
Fish curry
Butter chicken
Chicken Tikka
Vegetable Biryani
Tandoori chicken
Much more!
Indian cuisine at its finest: a definite winner
There is nothing wrong with a little bit of fusion. It provides a platform for culinary artists to display their talents. Traditional cuisine, however, is undoubtedly superior. The majority of people chose traditional Indian cuisine over alternative options. So, if you're in the mood for a Dine Indian restaurant in Mount Annan, we highly suggest that you reserve a table at Royal Curry House and delight your palate.
Serving the Community
Overall, Royal Curry offers Indian cuisine to the locals of Sydney's western suburbs. using authentic recipes inspired by Indian street food and bursting with authentic Indian flavor. The chefs are taught to place a high focus on flavor and quality in their food. You may be confident that because each meal is cooked to order, it will taste wonderful and fresh. This is the spot for you if you desire a laid-back atmosphere while eating.
Your meal experience at Royal Curry House will be delightful and memorable
You should choose the Royal Curry if you want a lively Indian meal and incredibly friendly service. Even better, you can reserve a table online in advance to avoid any unforeseen delays. To have a joyful and amusing time with your loved ones, you can choose our restaurant service, which offers the best service ever.
It's time to spice up your lunchtime with some delicious Indian cuisine!